Grazie!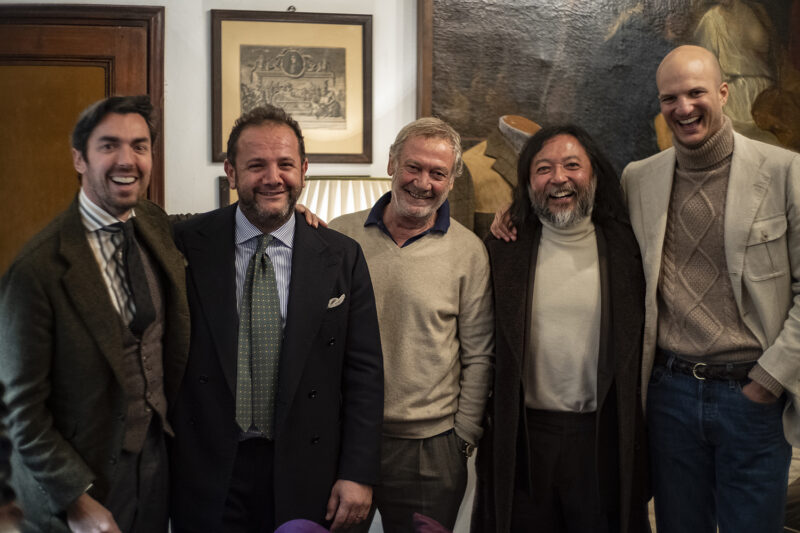 We would like to thank all those who, with their participation, contributed to the success of the event in Florence, on the occasion of the last edition of Pitti Uomo. It was nice to spend time together. They have been days of intense activity and involvement, which have seen a profitable comparison and an interesting exchange of ideas on our greatest passion, real handmade tailoring.
On the first day, arrived at the apartment early in the morning, we immediately unpacked our suitcases and set to work to set up the main room, with mannequins, fabrics, bunches, and our style books all well exposed on those beautiful antique furniture.
We wanted to recreate in the best way the Mood Saint Gregory.
The days were cold but the sunlight that came through the windows heated the whole room and projected on our outfits, which almost looked like theater spotlights. The protagonists were you, who honored us with your presence and gave us the opportunity once again to tell you about our roots and our more through our leaders and our proposals, all accompanied by a good glass of prosecco and typical Neapolitan aperitive.
Our mission is always to bring into the world an excellent product of pure tailoring, the real one, the "tutto fatto a mano", made of history, tradition, and maniacal attention to detail, without forgetting the strong bond to the territory.
In the hope of maintaining a collaborative and productive professional relationship with each of you, we hope to see you again at the next events.
Your feedback is essential for the continuation of our business, please if you want to leave us a message, do not hesitate to contact us on info@saintgregory.it
Once again, we express our sincere thanks and wish you all the best.