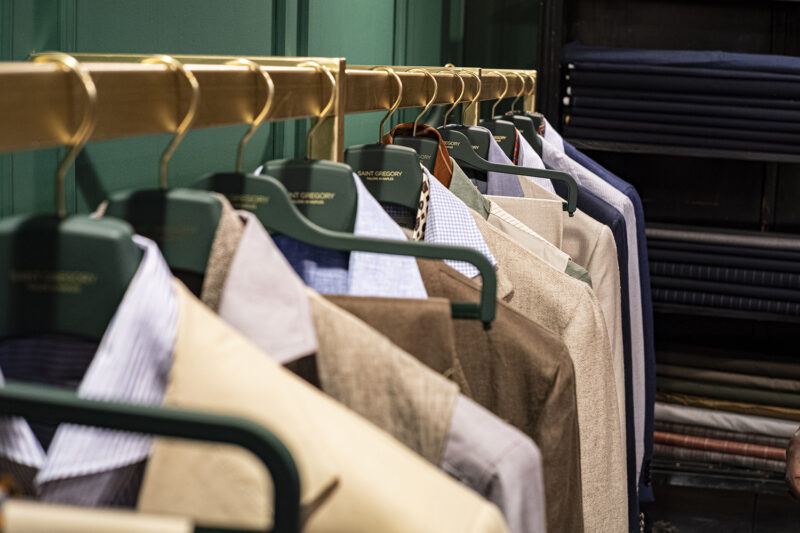 Dear Partner,
We're excited to introduce you to a service that's bound to revolutionize your fashion experience: our Tailored Ready-to-Wear!
Our Tailored Ready-to-Wear service combines the convenience of off-the-rack clothing with the luxury of custom tailoring. You can enjoy the perfect fit and the Anglo-Saxon style that distinguishes us, using the most prestigious English fabrics, and the Italian finest wools. Every single garment is made entirely by hand respecting the most antique Neapolitan tailoring techniques.
With our Tailored Ready-to-Wear service, you can choose more than one size, with no minimum order, and then have the garment in your boutique that you can use both as a try-on suit and sell as a tailored suit.
Here's what you can expect from our Tailored Ready-to-Wear service:
1. Quality Assurance: Our commitment to quality remains unwavering. Each piece from our Tailored Ready-to-Wear collection is crafted with precision and attention to detail, ensuring you receive a garment that's as stylish as it is well-made. We offer the exact same manufacturing of a bespoke suit, with no difference.
2. Custom Styling: Tailoring isn't just about fit; it's also about personal style. You can select from a range of customization options, including fabric choices, sleeve lengths, hemlines, and more, to create a garment that suits your preferences perfectly.
3. Time-Efficient: Unlike traditional bespoke tailoring, our Tailored Ready-to-Wear service is designed to save you time. Managing small volumes of production we are able to deliver your Capsule collection in a really short time.
4. Affordable Luxury: We believe that everyone should have access to the luxury of custom tailoring. Our Tailored Ready-to-Wear service offers this experience without the luxurious price.
Elevate your boutique with Saint Gregory. We can't wait to help you discover the perfect blend of convenience and style!
Stay tuned for upcoming newsletters where we'll share style tips, outfit inspiration, and exclusive offers to enhance your fashion journey. Should you have any questions or require assistance, please don't hesitate to contact our dedicated customer support team at
info.saintgregory@gmail.com
. Your satisfaction is our priority.
Warm regards,
Saint Gregory.